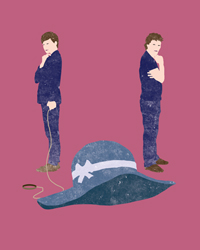 Best Brothers
When
Runs from Thursday April 12 2018 to Wednesday May 2 2018
Approximate running time: 2 hours
Venue
Performance Notes
×
After losing their free-spirited mother in a freak accident involving a large drag queen named Pina Colada, polar opposite brothers Kyle and Hamilton Best have to find a way to work together to make the final arrangements. In this 2012 hysterical comedy by famed Canadian playwright Daniel MacIvor two brothers reunite to gain a better understanding regarding their relationship with their mother, each other and the family dog.
Doors at 1pm, curtains at 2pm
Saturday Matinee April 29 at 2:00 pm will be a relaxed performance!
What is a relaxed performance?
Relaxed Performances are designed to welcome audience members who will benefit from a less restrictive audience environment, including (but not limited to) patrons with sensory processing conditions, Autism, a learning or intellectual disability, or parents with infants and toddlers. There is a more casual approach to noise and movement within the theatre space.
Some modifications and accommodations:
Intensity of light and sound cues have been adjusted to suit the relaxed environment The house lights will remain up to a suitable level The cast will introduce themselves and the play Exit and re-entry to theatre available Quiet space availability in the lobby