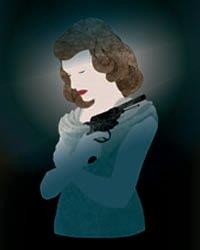 Hedda Noir
When
Runs from Thursday February 15 2018 to Sunday March 4 2018
Approximate running time: 2 hours
Venue
Performance Notes
×
Hedda Gabler returns from her honeymoon to confront the boredom of married life in a world where her independence as a woman is not socially acceptable. When the re-appearance of an old flame threatens her husband's career prospects and her own control of the people around her, Hedda sets in motion a series of events that build to a climactic finish. In this new adaptaion set in 1940, and with an exciting original design sourced from the Film Noir and Jazz scence of the era, this production of a playwright considered the greatest in history second only to Shakespeare is a must see for any thetare goer.
Saturday Matinee March 3 at 2:00 pm will be a relaxed performance!
What is a relaxed performance?
Relaxed Performances are designed to welcome audience members who will benefit from a less restrictive audience environment, including (but not limited to) patrons with sensory processing conditions, Autism, a learning or intellectual disability, or parents with infants and toddlers. There is a more casual approach to noise and movement within the theatre space.
Some modifications and accommodations:
Intensity of light and sound cues have been adjusted to suit the relaxed environment The house lights will remain up to a suitable level The cast will introduce themselves and the play Exit and re-entry to theatre available Quiet space availability in the lobby