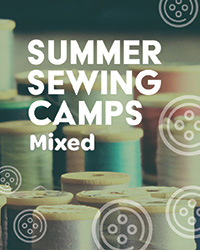 Sewing Camp Mixed Level
When
Occurs on Monday July 10 2023
Approximate running time: 3 hours
Venue
Event Notes
×
This class is designed to be a friendly and social sewing space for people with any amount of sewing expertise, from beginner to advanced. Particularly, it is for friends or siblings who are at different sewing levels, but who want to attend sewing camp together. It can also serve any students who cannot attend their specific level due to scheduling conflicts.
Projects available during this week will be the same as in the other beginner, intermediate and advanced leveles. Each student will be given projects that best align with their personal abilites. Although students will be tackling different projects they will be sharing the same space and spending a fun, creative time with their friends.
This afternoon camp will run July 10th - 14th, 2023 from 1:30-4:30pm

Registration forms will be emailed approximately a week prior to the start of the camp.