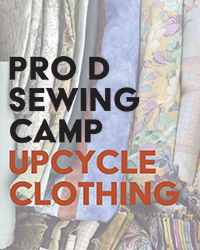 Sewing Camp Upcycling Clothing
When
Occurs on Monday March 20 2023
Approximate running time: 3 hours
Venue
Event Notes
×
This class is designed for children ages 12-17 with some sewing experience, those who attended last year's sewing camps, and children ages 10-12 with considerable sewing experience. The projects are more challenging than the Beginners class and some projects are multi-day projects. This camp consists of 3 hours per day for 5 days.
Project List: Jeans to bell bottoms – distressing jeans, applique, side panels •T-Shirt -Add lace, crop, add buttons, etc. Hooded poncho from blanket Memory Teddy
oStudents Must provide the following: Pair of old jeans that fit T shirt that fits old clothes or other textiles that hold a special meaning (ex. school logo shirt, old sports uniform, clothes from a special occasion that are no longer worn, baby clothes and swaddling blankets, clothing from a loved one…) cotton quilt, fleece blanket, or throw blanket (the larger the better)
This camp will run March 20-24th, 2023 from 1:30-4:30pm
Registration forms will be emailed approximately a week prior to the start of the camp.