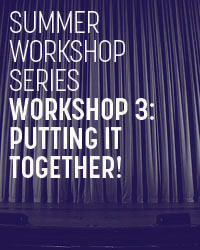 Summer Workshop Series #3 - Putting It All Together
When
Occurs on Saturday August 27 2022
Approximate running time: 2 hours
Venue
Event Notes
×
This summer join Theatre NorthWest's Artistic Associates as they host a series of workshops for local thespians, aspiring actors and those who wish to learn more about the craft of acting and auditioning. Participants are welcome to attend workshops individually or as a series.
WORKSHOP 3: PUTTING IT TOGETHER!
The final workshop in the summer series will demonstrate a variety of acting techniques and approaches to rehearsing scenes with a partner or an ensemble. How do you find a new way to play a scene when something just isn't working right? What can you find out about your character by adding an additional challenge to the scene or creating circumstances that show you new perspectives on your story? Participants will be given a scene to work through with a partner or in a small group, together the group will use text and character analysis to explore the scene more deeply. Attendance of previous workshops is recommended but not required.
This workshop will take place from 1:00 p.m. until 4:30 p.m. on August 27th and will be led by Theatre NorthWest Artistic Associate Bradley Charles and Artist in Residence Michelle Cyr.
Pricing Structure: This workshop is being offered on a "Pay What You Can" scale to ensure equitable access for all participants. Please select the price range you require.