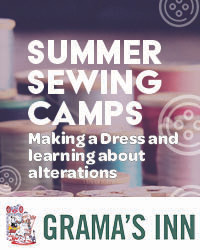 Make a Dress: Following a Pattern and Alterations
When
Occurs on Monday July 25 2022
Approximate running time: 3 hours
Venue
Event Notes
×
This class is designed for children ages 12-17 with some sewing experience, those who attended last year's sewing camps, and children ages 10-12 with considerable sewing experience. The projects are more challenging than the Beginners class and some projects are multi-day projects. This camp consists of 3 hours per day for 5 days.
Making a dress and learning about alterations
Day 1 - pincushion and learning Day 2 - Important students must arrive with one of the pre-approved patterns, and enough fabric to construct the garment Day 3 - making the dress Day 4 - making the dress Day 5 - making the dress
$150 per student Please fill out the registration form and email back to TNW before the first day of camp.
Special thanks to our sewing camp sponsor, Grama's Inn!
For details about our COVID safety plan, please contact admin@theatrenorthwest.com. Registration forms will be emailed approximately a week prior to the start of the camp.