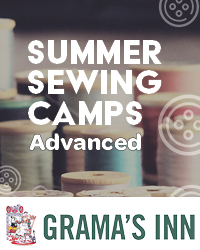 Sewing Camp Advanced
When
Runs from Monday July 11 2022 to Friday July 22 2022
Approximate running time: 3 hours
Venue
Event Notes
×
This class is designed for those who have completed the intermediate class, sew often at home, or are 14-18 years old and wish to learn more complex sewing skills. The camp consists of 3 hours per day over 5 days.
Projects for this camp TBA
The morning camp will run July 11-15 from 9am-12pm
The afternoon camp will run July 18-22 from 1:30-4:30pm
Special thanks to our sewing camp sponsor, Grama's Inn!
For details about our COVID safety plan, please contact admin@theatrenorthwest.com