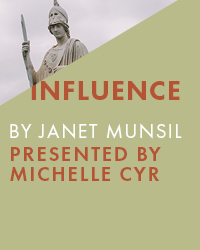 Influence: Stage Reading
When
Runs from Friday October 15 2021 to Saturday October 16 2021
Approximate running time: 2 hours
Venue
Event Notes
×
A stage reading of comedy-drama Influence by Janet Munsil, presented by Michelle Cyr.
In 1817, a battle of gods and mortals rages in the halls of the British Museum, when the ebullient but deluded history painter Benjamin Robert Haydon takes the young poet he considers his protege, John Keats, to view the recently unveiled statues of the Parthenon. As Haydon tries to awaken his young friend's appreciation of these treasures of antiquity, the goddess Pallas Athena arrives to reclaim them.
*In compliance with the current mandates from the Provincial Health Office, all guests age 12 and up are required to present proof of vaccination along with one piece of government-issued ID in order to attend this event.