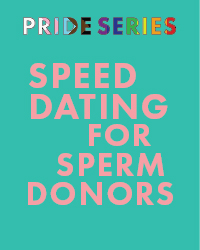 Speed Dating for Sperm Donors: Stage Reading
When
Runs from Saturday July 10 2021 to Friday October 29 2021
Approximate running time: 2 hours
Venue
Event Notes
×
A Stage Reading of Speed Dating for Sperm Donors by Natalie Meisner, Presented by Julian Legere.
Can a lesbian couple find Mr. Right? Helen and Paige really want a baby. Maybe even two. They've decided they want to use a sperm donor, but because of Paige's own upbringing as an adopted child they want the donor to at least be known to the child. This challenge makes the normally anonymous favour even harder and more intimate than they expected. And then there are the options for donors. Through the fast-paced "dating" of several candidates, all of whom come with their own warning labels, Helen and Paige's relationship is strained to a point where they must remember why they set out on this journey together in the first place.
Content Warnings: mature language, sexual content, and references to homophobic violence.
*In compliance with the current mandates from the Provincial Health Office, all guests age 12 and up are required to present proof of vaccination along with one piece of government-issued ID in order to attend this event.