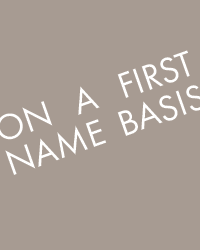 On a First Name Basis: Stage Reading
When
Occurs on Friday November 13 2020
Approximate running time: 2 hours
Venue
Event Notes
×
A Stage Reading of the comedic play: On a First Name Basis by Norm Foster, presented by Bradley Charles.
Norm Foster's On a First Name Basis tells the story of a very successful, but cantankerous, novelist who suddenly discovers that he knows nothing about his maid of 28 years. She, on the other hand, knows absolutely everything about him! He makes it his mission to learn all he can about her in a most engaging conversation. With revelations that are surprising, funny, and extremely moving, this is a love story, a social commentary, and a mystery wrapped in witty dialogue and vivid imagery.
Doors will open at 6:15pm, the Reading will begin at 7:00pm. Patrons will be seated by an usher upon arrival to ensure proper social distancing.
Safety is our top priority, please contact 250-563-6969X304 or boxoffice@theatrenorthwest.com if you have any questions, concerns, or would like a copy of our safety protocols.