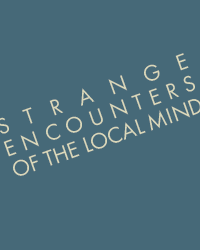 Strange Encounters of the Local Mind: Stage Readings
When
Occurs on Saturday November 14 2020
Approximate running time: 2 hours
Venue
Event Notes
×
Strange Encounters of the Local Mind: Stage Readings of works by local playwrights, presented by Nechako Community Theatrics Society.
Doors will open at 6:15pm, the Reading will begin at 7:00pm. Patrons will be seated by an usher upon arrival to ensure proper social distancing.
NEUROCHEMICALS MAKE UP OUR LIVES: Our evening starts with an explorative comedy written by Devon Flynn that takes us on a journey through what really goes on in the mind of the normal guy. It gives us a sneak peak into what really motivates the men in our lives. The truth might just surprise you.
THE CASE OF CINDY: Our second play, a playful genre mash-up written by Alora Bowness, explores the life of Red Riding Hood - no longer Little - who has grown up and developed a taste for adventure. Come join her journey as she uncovers mysteries as a detective in the world of Ever After.
SOULS FOR SALE: Our third play, an imaginative romp written by James Mills and Maddision Mills, features a pair of demons on Hell's busiest street corner with a soul to sell and a quota to make. Can they put on the charm long enough to make a sale?
CHEATS AND EXPLOITS: Our fourth play, a radio play written by Jenni Bomford, portrays the misadventures of Virginia, a teenage girl who loves video games more than anything - certainly more than her responsibilities. She finds a supernatural solution to typical adolescent obstacles, but will the easy way pay off?
NEVER FLYING WITH THEM AGAIN: Our fifth play, a comedy written by Devon Flynn, presents the trials of a very tired traveller who just wants to go home, and an airport employee wearing entirely too many hats.
MINTY GOBBLES: Our final locally penned play, written by Devon Flynn is a heartfelt look at intergenerational relations. In it, we follow a grandfather and grandchild on a hunting trip, during which what first keeps them apart becomes the very thing that ultimately brings them together.
Safety is our top priority, please contact 250-563-6969X304 or boxoffice@theatrenorthwest.com if you have any questions, concerns, or would like a copy of our safety protocols.